Creating a Pet-friendly Kitchen
Creating a Pet-friendly Kitchen
They've got paws or claws, but they're still family members to many.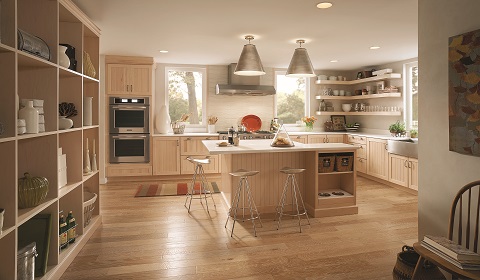 Your cabinets can store your pet's food and dishes, too. Photo Courtesy of KraftMaid Cabinetry.
More than 60 percent of American households include pets and these 164 million critters are as apt to hang out in the kitchen as their two-legged parents. Like everyone else, they know where the action — and treat jar — is.
Like young children, they can also get themselves into trouble if not properly supervised, though your son and daughter are less likely to rummage through the trash if bored or hungry.
Smart kitchen designers and homeowners should plan for non-human household members and have lots of options available to them today.
Curiosity Can Kill the Cat
There are numerous dangers facing pets in the kitchen, especially cats that like to jump onto countertops. Burns to their paws from landing on a hot cooktop is one common hazard. Another is chewing through the electrical cords from small appliances. Kittens are especially susceptible to this one, according to veterinarians.
Dogs are often victims of choking from items they pull out of the trash or off of tables. If they don't choke, they sometimes get upset stomachs from the items they swallow. These are all preventable issues with proper planning.
Planning Around Your Pet
If you are designing a new kitchen, there are choices you can make that will benefit your home and your pet. One is to consider an induction range or cooktop over gas or electric. It will deliver energy efficiency, sleek style, faster cooking and easy clean up to your household. It will also be safer for pets and children, as only the cooking surface directly in contact with the pot or pan heats up. That makes it extremely unlikely that your cat will burn his or her paws on it.
To avoid wire chewing, consider an appliance garage where you can keep appliances accessible, but out of sight behind a cabinet door. You can plan an appliance garage that's large enough to accommodate your countertop appliances with an outlet behind them but is still within the sheltered area. Keep it closed when not in use and in your peripheral vision when open.
Rather than keeping your trash in a freestanding can that can be easily knocked over by a large, hungry dog, plan in a pull-out trash bin. Better yet, make it a dual-can model. The second bin can hold dog food or recycling.
Another appliance that is essential for your pet's well-being — and that of your family — is a properly sized and functioning range hood. Vent fans keep cooking grease off of your home's surfaces, yourselves and your pets. It should be quiet too, so that your dog's sensitive ears aren't strained and you can hear each other talk while it's on.
Your new flooring should be pet friendly as well. Rectified porcelain works well, as its minimal grout lines make it low maintenance and it won't be damaged by a heavy pet or sharp claws.
Porcelain slab or engineered stone will deliver the same durability and low maintenance to your countertops. And they'll be very forgiving if Fluffy knocks over a glass of red wine or tomato juice that might stain a natural stone top.
Walls and baseboards should be covered in an easily scrubbable paint, as your pets will likely rub against them. I would also suggest simple cabinet fronts that don't invite scratching or hold dog drool in heavy detail. Any fabrics in easy reach of furry skin — like door panels and banquette cushions — should also be low maintenance. Indoor-outdoor fabric is generally a good option.
Building Around Your Pet
Many homeowners are also building special areas for their four-legged friends. These include feeding stations, cleaning stations (often in adjacent mud rooms), accessory storage (for leashes, litter bags, etc.) and sleep areas. Feeding and resting areas should be planned at a distance from where the rest of your family eats, so that your pet isn't fed from the table or accustomed to relaxing where food drops.
Enjoying Pet Inspiration
Your pet can also inspire some of your kitchen's design choices. Custom carvings for a range hood or island legs can richly portray your furry friends. Tiles or cabinet hardware can be found with animal motifs. There are also patterned fabrics for your counter stools or bench cushions that will depict popular animal breeds. Be creative. Have fun. Stay safe!
Credit: Jamie Gold / newhomes.move.com